Get the competitive advantage by offering great customer service. Bright helps companies screen in the applicants best suited to serve their customers

Getting the right customer service personnel is key to raising the overall customer satisfaction. Friendly, efficient customer service helps set a succesful business apart from its competitors. Use BRIGHT in recruitment to screen in the best candidates quickly and efficiently. With BRIGHT you will:
easily spot high-performing service personnel
save time and money by screening applicants before an interview
conduct more relevant job interviews with fewer candidates
cut down on employee turnover
raise your overall customer satisfaction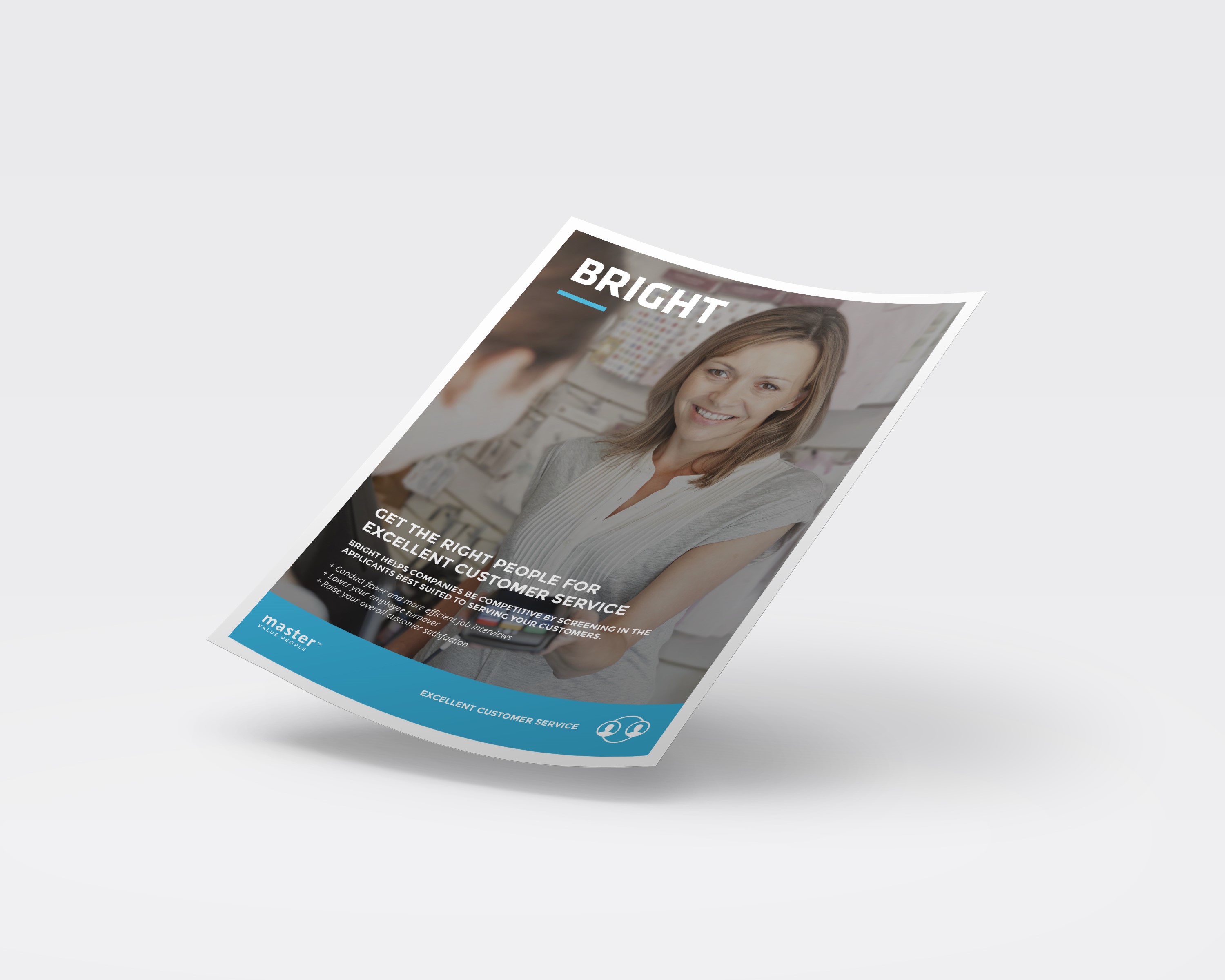 BRIGHT
BRIGHT measures the customer-service related attitudes and behaviours of potential employees in a non-discriminatory way. It was developed by psychologists, in cooperation with leading customer service companies. BRIGHT can help companies find the right person for the job the first time, lowering employee turnover.

With BRIGHT companies safe time and money by screening applicants for customer service characteristics even before they come for an interview. The integrated flexibility makes it possible to customize BRIGHT to include only the service behaviours relevant for a specific open position.
The following behaviours and attitudes can be measured:
Integrity
Diligence
Service-Mindedness
Social Confidence
Stress Tolerance
Sales Self-Efficacy
Application areas
BRIGHT is designed for screening and selection of employees in customer service roles e.g.
retail
security
hotels
transportation
recreation
call centres
Languages and norms
BRIGHT is available in Danish, Chinese (Mandarin), Finnish, English, Norwegian, Polish, Spanish, and Swedish.
There are national as well as international norms available.
Validation
BRIGHT meets international standards for professional tests. Documentation has been performed to provide evidence of reliability and validity.
Practitioner workshop
BRIGHT is designed to be a straight-forward recruitment tool and requires no certification for users. 
Master offers practitioner workshops on how to get hands-on practice with BRIGHT.
If you have any questions, or if you would like to learn more about the BRIGHT solution, please send us an e-mail at info@master-hr.com