The personality test MPA identifies crucial behaviour traits for success in any given job. MPA helps companies optimise their selection process by identifying potential and talent
MPA provides HR professionals with relevant insights into candidates' personality traits and helps select and retain the right people for a given job. MPA enables you to make better and smarter HR decisions to increase profitability, reduce uncertainty and improve HR processes.
create efficient workflows for successful selections
match motivated employees to the right job
reduce costly staff turnover, saving time and money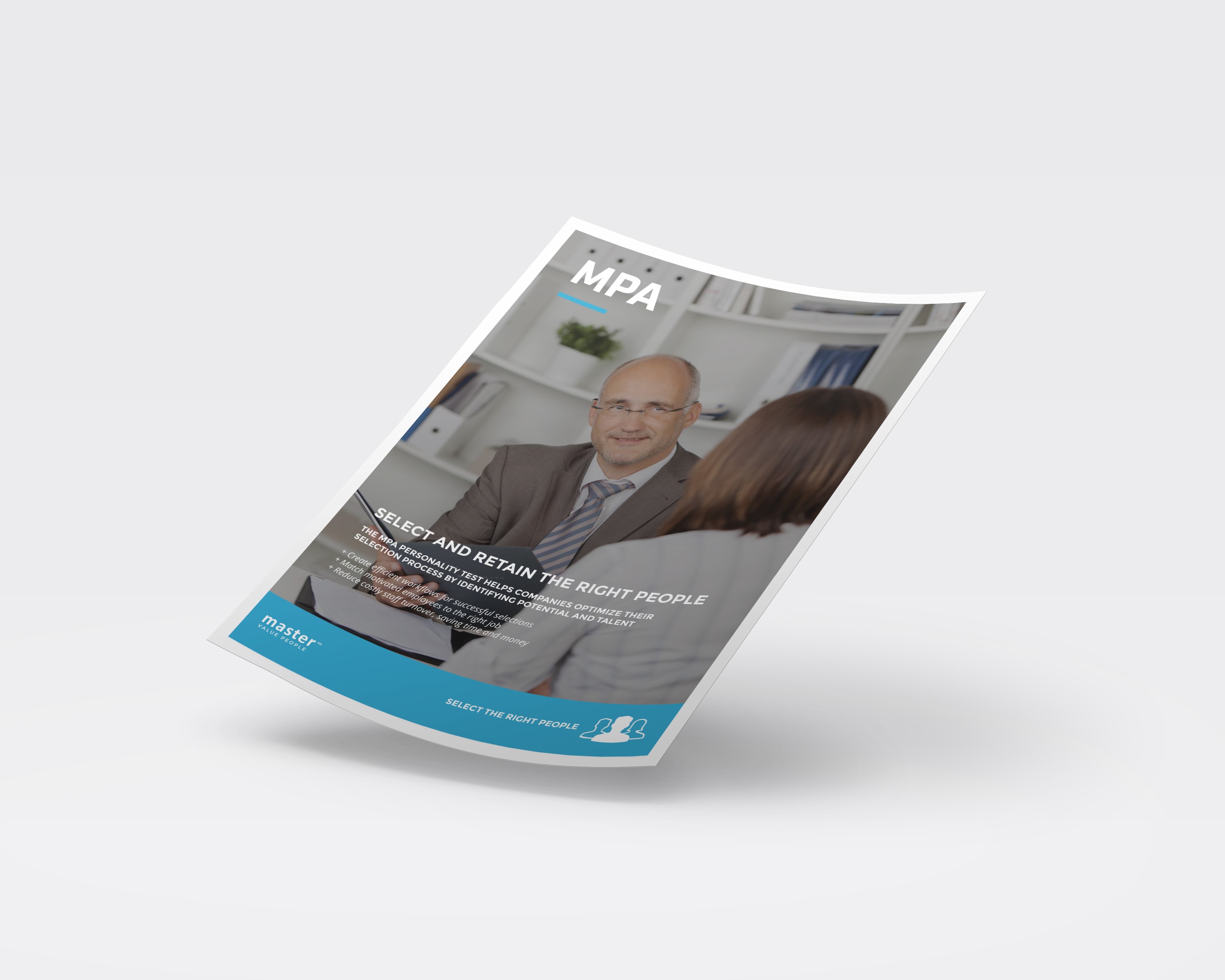 MPA 
MPA is an occupational personality test developed by psychologists. It assesses and describes behaviour in nine basic properties e.g. achievement orientation, emotional control and abstraction orientation. These are are divided into three main areas:  
ego drive
social factors
work style
In addition to the nine basic properties, there are a number of supplementary properties that are based on a combination of the basic properties. These describe factors such as independence, initiative and motivation.
Test results are conveyed in clear reports designed to suit different needs e.g. Interview Guide and Manager Report.
Application Areas
MPA is a reliable assessment for internal and external processes in recruitment and development. It is suitable for use with employees and managers at all levels across a range of applications: 
selection
individual development
leadership development
outplacement 
talent management
organisational development
Languages and Norms
MPA is available in Bulgarian, Chinese (Mandarin), Croatian, Czech, Danish, Dutch, English, Estonian, Finnish, French, German, Hungarian, Italian, Norwegian, Polish, Portuguese, Romanian, Russian, Slovak, Slovenian, Spanish and Swedish. 
There are national as well as international norms available. 
Validation
MPA meets International standards for professional tests. Extensive documentation has been performed.
If you have any questions, or if you would like to learn more about the MPA solution, please send us an e-mail at info@master-hr.com